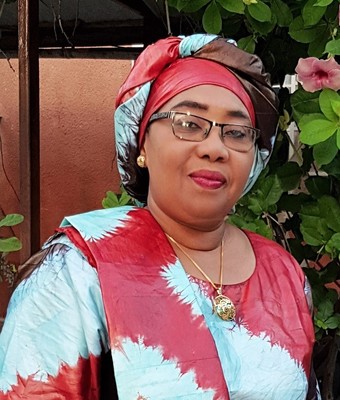 Anna Mbenga Cham
Director of Fisheries
Contact info:
Address:

7 Marina Parade, Banjul

Email:

info@mofwr.gm

Phone:

(+220) 422-2271

Social:
Biography
Anna Mbenga Cham, is the Director of Fisheries from January 2021. She came to Fisheries Department in year 2000 as a fisheries officer. She climbed the ladder from a Senior Fisheries Officer in 2007 to a Principal Fisheries Officer from 2011-2015. She served as the Deputy Director of Fisheries from 2015-2017. She went on secondment to the World Bank as a coordinator for the West Africa Regional Fisheries Program – Preparatory Phase from 2017- 2019.
In 1998 she served as a planner for natural resources at the Department of State for Agriculture for one year and then transferred by the government to the Department of Parks and Wildlife Management in 1999, as a Parks and Wildlife Officer, where she served as a researcher for aquatic resources (cetaceans and turtles, etc.). In 1983 she work as Laboratory Assistant at the Soils Laboratory at the Agriculture Station, conducting soil and seed analyzes for farmers.
While working at the department of fisheries she pursued a diploma in Gender studies at the Management Development Institute in the year 2003. She obtained a certificate in Technology and Management of Aquaculture, Department of Marine Science and Technology, Ocean University, Keelung, Taiwan, and in 2006 at the Management Development Institute she obtained another diploma in Management. In 2012 she obtained a certificate in Leadership in Fisheries Management at the University of Rhode Island, USA. In 2014 she started her PhD research on fisheries spawning and nursery grounds in The Gambia estuary, enrolled at the University of Cheikh Anta Diop, Dakar, Senegal. Draft thesis submitted 2018- due to the COVID Pandemic she still awaits to defend her PhD thesis.
In 2016 she obtain another certificate in Fisheries Management at the University of British Columbia in Canada. While ascending on the ladder of academics and leadership position, she became a national gender focal person and chairperson of SBEC International School, from 2002 to date.
She attended Muhammedan Primary School in 1971. From there, she went to Muslim High School in 1977 and graduated in 1982 in the field of sciences. In 1986, she attended Trondernes Folkehog skole, to learn the Norwegian Language. In 1987-1988, she attended Hegen Videregoende Skole (college) in Harstad, Norway, where she did general sciences combined with working full time for a year in the fishing industry to acquire practical experience in the field of fisheries. In 1988-1996, she pursue her Fiskeri kandidat Studier– (Master's program in fisheries sciences, a continued program from BSc to MSc) at the University of Tromso, Norway (defended her master's thesis in 1996 with honors). She holds a Master's degree (MSc.) - Master of Science in International Fisheries Management at the University of Tromso, Norway.
She has over 24 years of experience in both the public and private sectors. During her work processes, she has conducted a series of training for fisheries communities and has done publications in the field of natural resources.